AIPUT (Airport Industrial Property Unit Trust) managed by abrdn, has completed the freehold acquisition of the multi-let Fleming Business Centre, located in the heart of Manor Royal, Crawley, to the south of Gatwick Airport. The freehold site (4.5 acres) was acquired from Lothbury Investment Management for £22.4m at a yield of 4.2%. This latest acquisition follows AIPUT's purchase just last month of a 75-acre strategic land development site in West Heathrow.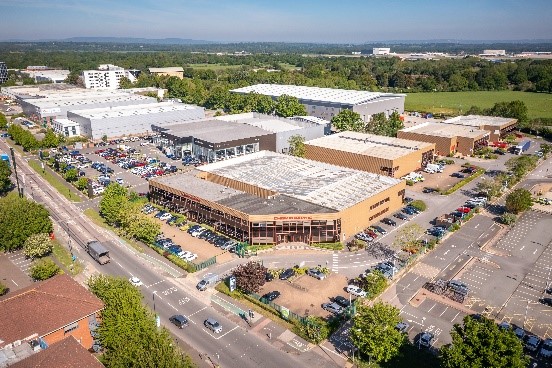 The Fleming Business Centre, located along Manor Royal's prime industrial pitch, situated just off the A23, has a GIA of approximately 95,000 sq ft divided across seven units, one of which is currently vacant. Existing occupiers include the British Red Cross and Chemigraphic Ltd. The average rent is about £10 per sq ft. The new campus increases AIPUT's industrial floorspace in the area by 80%, adding to and broadening the type of warehouse product it can offer to the recovering occupier market. The fund's existing assets at Viking House (on-airport) and Gatwick Gate (off-airport) are single let warehouses, occupied by Gate Gourmet and World Duty Free respectively.
Crawley is materially undersupplied by modern and flexible industrial space for a South East town that is expected to see one of the biggest population expansions in the area. Over 5,000 new homes could be built in the coming years. In addition, the airport itself is currently consulting on its proposal to fully utilise the second runway, which could also accelerate economic and industrial sector activity in the area, offering a wider global connectivity and a projected increase in capacity from 62m to 75m passengers by 2038.
Nick Smith, AIPUT Fund Manager, commented: "This latest acquisition for AIPUT is in line with our strategic goal to invest £150 million in new high-quality assets that will enhance returns and diversify our prime airport industrial portfolio, both geographically and across a wider range of occupiers and growing business sectors that support the nation and local populations
"The high level of competition and extensive bidding process to secure the site shows as much about our tenacity for the right asset as the strength of investor demand for multi-let industrial estates - especially in supply-starved South East conurbations within the radar of nationally important transport hubs boasting excellent ground surface connectivity and highly consuming populations.
The location and range of unit sizes at this campus is expected to play into the lap of this explosive economic recovery. We will be deploying our customised AIPUT business model to deliver exactly what the local consuming population has been lacking, and to capture the inherent value in this excellent asset."
AIPUT was advised by Gerald Eve and Eversheds Sutherland. Lothbury IM was advised by DTRE.
Ends
Media enquiries
For further images or information, please contact:
Melissa Pentecost or John Mills: 020 7630 1411
AIPUT@thecommunicationgroup.co.uk
The Communication Group plc
Andrea Ward
0131 245 0001
andrea.ward@aberdeenstandard.com
Notes to editors
About AIPUT
abrdn's' Airport Industrial Property Unit Trust (AIPUT) is an award-winning expert long-term investor specialising in industrial property at and within major UK airport ecosystems. AIPUT is the only specialist airport-focused industrial fund in the UK for expert institutional investors, with a life until 2036. AIPUT aims to deliver a positive ESG (Environmental, Social and Governance) performance impact from undertaking responsible investment activity throughout its portfolio, with a strategic target to achieve operational carbon neutrality across the portfolio by 2025.
The fund, which marked its 16-year anniversary in March 2021, manages a prime portfolio of properties providing high-quality and customised warehouse and logistics space:

£0.8 Billion assets under management (@ September 2021)
Delivered a Trust total return of 27% in the 12 months to June 2021
21 assets, amounting to c2.5m sq ft, spread over 200 acres
2.3m sq ft of assets at Heathrow, making AIPUT one of the largest landlords around the airport, serving the evolving needs of the airport and the air-freight related industry, and increasingly the 7 million people that live and work in the area, with the ultimate objective to shape a thriving and resilient airport ecosystem that everyone can benefit from and enjoy
Assets at London's three major international airports: Heathrow (92%), Gatwick (6%) and Stansted (2%)
Clients and investors – pension funds & expert institutional investors
More information can be found at AIPUT's dedicated website: www.aiput.co.uk
About abrdn
At abrdn, we enable our clients to plan, save and invest for their futures.
We structure our business into three areas – and together they reflect our focus on enabling our clients to be better investors:
Investments: We work with clients to create solutions across asset classes, regions and markets globally – combining multi-layered research and market insights with technology and diverse thinking.
Adviser: We offer market-leading platform technology and tools that enable UK wealth managers and financial advisers to create more opportunity for their business and their clients.
Personal: We help people throughout the UK plan for their financial futures – through our financial planning business and our digital investing services.
Across our investments, adviser and personal businesses we manage and administer £532 billion of assets for our clients, and abrdn plc has over 1 million shareholders. (Figures as at 30 June 2021)
Our investments are built on an insight strength that comes from multi-layered research and a large global footprint. Our teams collaborate across multiple capabilities, to create forward-thinking solutions that aim to meet our clients' needs and deliver more sustainable outcomes. Our investments business manages £456.6 billion on behalf of individuals, governments, pension funds, insurers, companies, charities and foundations (as at 30 June 2021) – with support and expertise from 800 investment specialists in over 30 locations.
abrdn is the single global brand for all areas of our business. In July 2021 our plc listing became abrdn plc. In September our investments business, formerly Aberdeen Standard Investments, became abrdn.
abrdn.com
Important Information
For Professional Investors only
The value of investments, and the income from them, can go down as well as up and you may get back less than the amount invested. Past performance is not a guide to future results. Tax treatment depends on the individual circumstances of each investor and may be subject to change in the future. We recommend that you seek financial advice prior to making an investment decision.
The details contained here are for information purposes only and should not be considered as an offer, investment recommendation, or solicitation to deal in any investments or funds and does not constitute investment research, investment recommendation or investment advice in any jurisdiction. Any research or analysis used to derive, or in relation to, the above information has been procured by us for our own use, without taking into account the investment objectives, financial situation or particular needs of any specific investor, and may have been acted on for own purpose. No warranty is given as to the accuracy, adequacy or completeness of the information contained in this communication and no liability for errors or omissions in such information. Readers must make assessments to the relevance, accuracy and adequacies of the information contained in this communication and make independent investigations, as they may consider necessary or appropriate for the purpose of such assessments. Any opinion or estimate contained in this communication, are made on a general basis. No information contained herein constitutes investment, tax, legal or any other advice, or an invitation to apply for securities in any jurisdiction where such an offer or invitation is unlawful, or in which the person making such an offer is not qualified to do so.
Issued in the United Kingdom (UK) by Aberdeen Asset Managers Limited, registered in Scotland (SC108419) at 10 Queen's Terrace, Aberdeen, AB10 1XL, and Standard Life Investments Limited registered in Scotland (SC123321) at 1 George Street, Edinburgh EH2 2LL. Both companies are authorised and regulated in the UK by the Financial Conduct Authority.