Aberdeen Standard Investments' AIPUT fund (Airport Industrial Property Unit Trust) has today announced the start of construction on Phase II of dnata City East, a 117,000 sq ft extension of its landmark air cargo facility located immediately to the south of Heathrow Airport. The new building delivers a significant vote of confidence in Heathrow's continuing success as a leading global airfreight hub.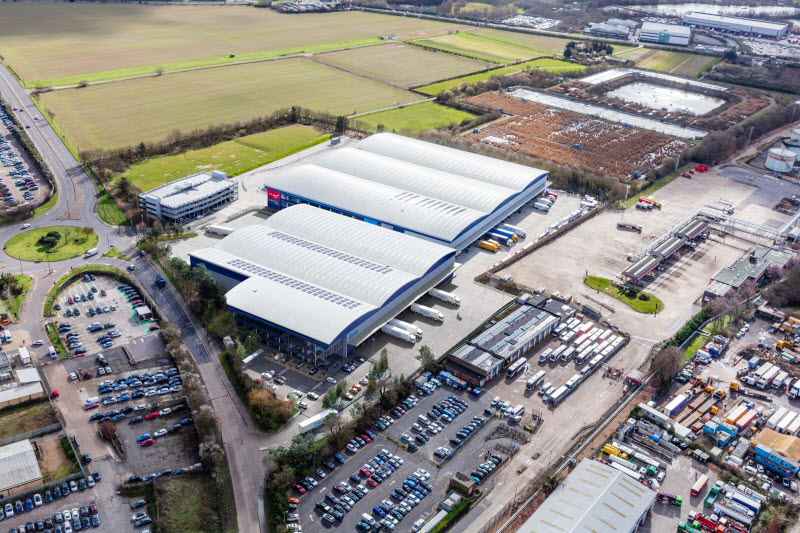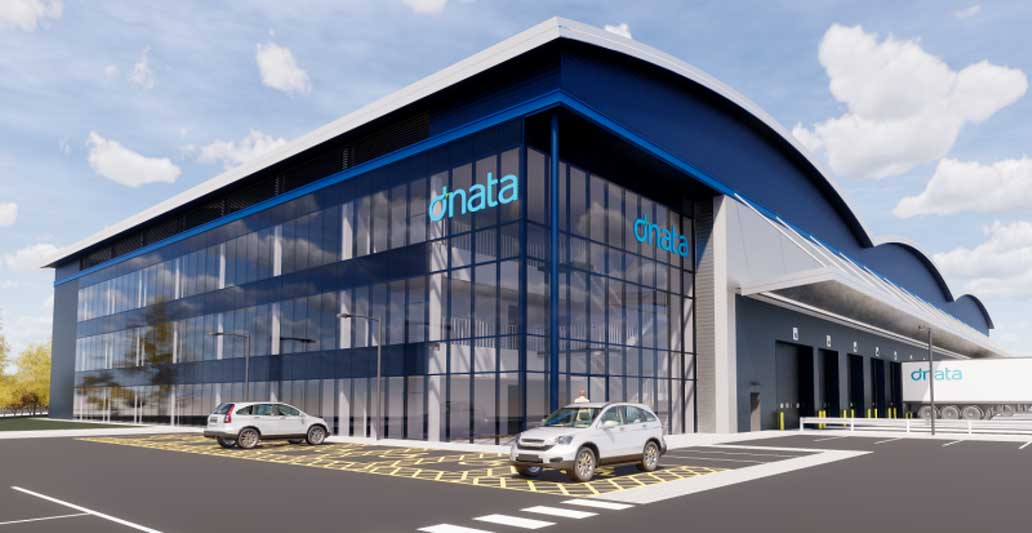 New 117,000 sq ft building further strengthens Heathrow's largest off-airport airfreight location
Full planning permission for the new 117,000 sq ft warehouse building was granted by the London Borough of Hounslow in August 2020, following an earlier vote in favour of the project by its Planning Committee. The building will be operated by dnata, the largest independent cargo-handler serving Heathrow, together with the nearby 250,000 sq ft dnata City East Phase I warehouse, also built by AIPUT and pre-let to dnata.
Due for completion by early October 2021, the new building – specifically designed to meet the operations requirements of dnata - will strengthen dnata City East's status as the largest off-airport cargo handling operation at the UK's primary commercial aviation hub.
Specialist industrial and logistics contractor, McLaren Group, has been appointed as lead contractor for the build programme, reporting to project manager, Avison Young. The project will be delivered in line with AIPUT's Carbon Strategy, which commits the fund to achieve carbon neutrality by 2025. The latest carbon reduction techniques will be incorporated into the building's construction and operations in order to future-proof both the operational and commercial value of the wider dnata City East location. Recycled and low-carbon materials will be used where possible, together with the installation of solar PV panels, air-source heat pumps and electric vehicle charging points. The new building will target a rare BREEAM 'Excellent' environmental rating.
Edward Amery, Head of UK Industrial & Logistics for Aberdeen Standard Investments, commented: "AIPUT's new, landmark warehouse at dnata City East will reinforce our long-term vision to drive the continued growth of our portfolio of prime air cargo assets at Heathrow. The completed dnata City East site will set a new benchmark for airport industrial property investment, with AIPUT's partnership with dnata creating a new, off-airport centre of excellence for UK airfreight."
Alex Doisneau, Managing Director, dnata (UK) Limited, commented:"We are delighted to be working with AIPUT in completing the dnata City East complex with the Phase II build, this highlights our growing commitment to the UK's premier gateway airport in creating world-leading cargo infrastructure to support and enhance our customer and operational needs at this critical time."
ChappellKing is instructed as AIPUT's strategic development consultants for dnata City East.
ENDS
For further images or information, please contact:
Melissa Carver/John Mills: 020 7630 1411
AIPUT@thecommunicationgroup.co.uk
The Communication Group plc
Notes to Editors:
About AIPUT

Aberdeen Standard Investments' Airport Industrial Property Unit Trust (AIPUT) is an award-winning expert long-term investor specialising in industrial property on and near major UK airports. AIPUT is the only specialist airport-focused industrial fund in the UK for institutional investors with a life until 2036. AIPUT aims to deliver a positive ESG (Environmental, Social and Governance) performance impact throughout its portfolio, with a strategic target to achieve carbon neutrality by 2025. The fund has successfully achieved GRESB Green Star status in each of the last five years.
The fund, which marks its 16 year anniversary in March 2021, manages a prime portfolio of properties providing high-quality and customised warehouse and logistics space:

£630m assets under management (@ January 2021)
19 assets, amounting to c2.3m sq ft
2.1m sq ft of assets at Heathrow, making AIPUT one of the largest landlords around the airport, serving the evolving needs of the airport and the air-freight related industry
Assets at London's three major international airports: Heathrow, Gatwick and Stansted
Target clients and investors – pension funds & expert institutional investors
More information can be found at AIPUT's dedicated website: www.aiput.co.uk
About Aberdeen Standard Investments

Aberdeen Standard Investments is a global asset manager dedicated to creating long-term value for our clients. With over 1,000 investment professionals, we manage £455.6 billion* of assets worldwide. We have clients in c.80 countries supported by over 40 offices globally. This ensures we are close to our clients and the markets in which we invest. (*as of 30 June 2020)
We are high-conviction, long-term investors who believe teamwork and collaboration are the key to delivering repeatable, superior investment performance.
Standard Life Aberdeen plc is headquartered in Scotland. It has around 1.2 million shareholders and is listed on the London Stock Exchange.
You can access the Aberdeen Standard Investments media centre here: www.aberdeenstandard.com/news-and-media
About McLaren Group
McLaren Group is a multi-award winning, privately-owned constructor of logistics and industrial property, specialising in the delivery of highly-complex, bespoke warehousing and manufacturing facilities incorporating the very latest technological advances and carbon efficiency.
The company operations are focused primarily in the UK and Middle East, where it has built a successful reputation as a leading constructor of flexible, future-proofed 'smart', greener buildings, using embedding digital technology to deliver enhanced operational efficiencies for the client. Further details can be found at: www.mclarengroup.com
About Avison Young
Avison Young is the world's fastest-growing commercial real estate services firm. Headquartered in Toronto, Canada, the company comprises approximately 5,000 real estate professionals in 120 offices in 20 countries. Avison Young acquired GVA in February 2019 as one of the UK's leading and most diverse real estate advisory businesses.
Avison Young is a leading advisor in the industrial & logistics sector. Working with institutional funds, developers, occupiers and asset managers, delivering projects across the UK and Europe. The Project Management team has a proven track record in the sector having delivered many successful schemes, the largest of which are in excess of 2m sq ft Further details can be found at: www.avisonyoung.co.uk
Important Information
For Professional Investors only
The value of investments, and the income from them, can go down as well as up and you may get back less than the amount invested. Past performance is not a guide to future results. Tax treatment depends on the individual circumstances of each investor and may be subject to change in the future. We recommend that you seek financial advice prior to making an investment decision.
The details contained here are for information purposes only and should not be considered as an offer, investment recommendation, or solicitation to deal in any investments or funds and does not constitute investment research, investment recommendation or investment advice in any jurisdiction. Any research or analysis used to derive, or in relation to, the above information has been procured by us for our own use, without taking into account the investment objectives, financial situation or particular needs of any specific investor, and may have been acted on for own purpose. No warranty is given as to the accuracy, adequacy or completeness of the information contained in this communication and no liability for errors or omissions in such information. Readers must make assessments to the relevance, accuracy and adequacies of the information contained in this communication and make independent investigations, as they may consider necessary or appropriate for the purpose of such assessments. Any opinion or estimate contained in this communication, are made on a general basis. No information contained herein constitutes investment, tax, legal or any other advice, or an invitation to apply for securities in any jurisdiction where such an offer or invitation is unlawful, or in which the person making such an offer is not qualified to do so.
Issued in the United Kingdom (UK) by Aberdeen Asset Managers Limited, registered in Scotland (SC108419) at 10 Queen's Terrace, Aberdeen, AB10 1XL, and Standard Life Investments Limited registered in Scotland (SC123321) at 1 George Street, Edinburgh EH2 2LL. Both companies are authorised and regulated in the UK by the Financial Conduct Authority.