Aberdeen Standard Investments' AIPUT fund (Airport Industrial Property Unit Trust) has successfully bucked the wider commercial real estate market this Summer, achieving full occupancy across its London-focused airport industrial real estate portfolio following the completion of several key lease agreements at Heathrow Airport.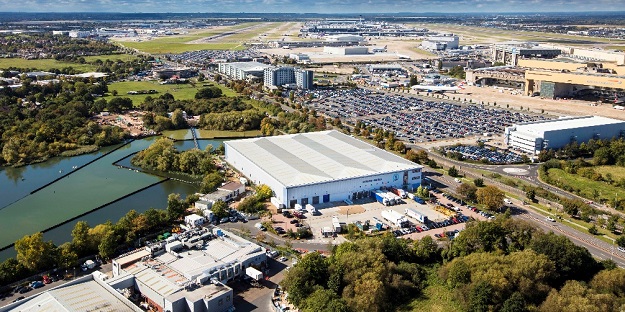 AIPUT is one of the largest private landlords at Heathrow, with a portfolio of some 2.1m sq ft. The fund, which marked its 15-year anniversary in March 2020, has been responsible for almost 30% of new letting deals at Heathrow Airport so far in 2020, amounting to almost 200,000 sq ft with a further 130,000 sq ft lease extension agreed with Kuehne+Nagel - the world's second largest airfreight forwarder - at its South Cargo Center location. This key airfreight facility plays a vital role – highlighted by the Covid-19 pandemic – in supporting national resilience through the large-scale importation and exportation of pharmaceuticals and medical equipment.
AIPUT's focus in 2020 has been both to enhance its relationship with existing customers and to welcome new customers to the fund, building in resilience to protect against future headwinds. The fund has recently agreed an extension to its £200million revolving credit facility with RBSI (Royal Bank of Scotland International) through to late 2022.
The most recent transactions bringing the portfolio to full occupancy were lease agreements with Automania Garage Services (AGS) and PRS Distribution at Airport Gate, together representing almost 100,000 sq ft of industrial warehousing. AGS is a new customer for AIPUT, whereas PRS has a long-standing relationship with the fund, having previously occupied space at its Blackthorne Point location.
Nick Smith, fund manager of AIPUT, said: "Achieving full occupancy in the context of Covid-19 demonstrates the unquestionable need for and resilience of AIPUT's airport-focused real estate portfolio in even the most testing economic environment. The portfolio is as market resilient as it has ever been, due to our determination to be responsive to the evolving needs of our customers.
"We will continue to manage the AIPUT portfolio to prioritise maximum occupancy and a durable income stream; working to successfully navigate our way through this extremely challenging period for commercial property, whilst also working with our clients to identify future growth opportunities.
"Whereas the Heathrow industrial property market is currently working effectively, we expect that a resurging consumer demand and national need will put further pressure on a distinctly limited availability of new warehouse space."
In preparation for the handover to AGS, Units 2-4 at Airport Gate were extensively refurbished during the lockdown period, ensuring that the buildings would be completed in time to meet the company's required timescale for occupation.
Prior to the most recent Airport Gate lettings, AIPUT also completed a 28,000 sq ft long-term lease in May 2020 with Rygor Commercials at its Camgate location, also at Heathrow. Two transactions in Q1 at Central Park Estate with Hertz and Expressway Handling set the tone for AIPUT's busy year of leasing activity.
Earlier in 2020, AIPUT secured planning permission for two new warehouse buildings at its dnata City East site in Stanwell (115,000 sq ft) and the Blackthorne Point estate at Poyle (Slough) of 28,000 sq ft. The former has been pre-let to dnata and will operate in conjunction with the existing state-of-the -art 242,000 sq ft warehouse that began operations with dnata (and its customers, Virgin Atlantic Cargo and Delta Cargo) in September 2019. The two buildings at dnata City East will process around 10% of Heathrow's total airfreight capacity.
The new warehouse at Blackthorne Point is being promoted as a rare high quality "coolbox" opportunity for specialist temperature-controlled operators such as life sciences, food-perishables, benefiting from market-leading design specification for an occupier to thrive in a post Covid-19 world and to offer the best working environment for their staff.
-Ends-
For further images or information, please contact:
Melissa Carver/John Mills: 020 7630 1411
AIPUT@thecommunicationgroup.co.uk
The Communication Group plc
Notes to Editors:
About AIPUT
Aberdeen Standard Investments' Airport Industrial Property Unit Trust (AIPUT) is an award-winning expert long-term investor specialising in industrial property on and near major UK airports. AIPUT is the only specialist airport-focused industrial fund in the UK for institutional investors with a life until 2036. AIPUT aims to deliver a positive ESG (Environmental, Social and Governance) performance impact throughout its portfolio, with a strategic target to achieve carbon neutrality by 2025. The fund has successfully achieved GRESB Green Star status in each of the last five years.
The fund, which marked its 15 year anniversary in March 2020, manages a prime portfolio of properties providing high-quality and customised warehouse and logistics space:


£650m assets under management (@ June 2020)
19 assets, amounting to c2.3m sq ft
2.1m sq ft of assets at Heathrow, making AIPUT one of the largest landlords around the airport, serving the evolving needs of the airport and the air-freight related industry
Assets at London's three major international airports: Heathrow, Gatwick and Stansted
Target clients and investors – pension funds & expert institutional investors
More information can be found at AIPUT's dedicated website: www.aiput.co.uk
About Aberdeen Standard Investments
Aberdeen Standard Investments is a global asset manager dedicated to creating long-term value for our clients. With over 1,000 investment professionals, we manage £455.6 billion* of assets worldwide. We have clients in c.80 countries supported by over 40 offices globally. This ensures we are close to our clients and the markets in which we invest. (*as of 30 June 2020)
We are high-conviction, long-term investors who believe teamwork and collaboration are the key to delivering repeatable, superior investment performance.
Standard Life Aberdeen plc is headquartered in Scotland. It has around 1.2 million shareholders and is listed on the London Stock Exchange.
You can access the Aberdeen Standard Investments media centre here:
https://www.aberdeenstandard.com/news-and-media
Important Information
For Professional Investors only
The value of investments, and the income from them, can go down as well as up and you may get back less than the amount invested. Past performance is not a guide to future results. Tax treatment depends on the individual circumstances of each investor and may be subject to change in the future. We recommend that you seek financial advice prior to making an investment decision.
The details contained here are for information purposes only and should not be considered as an offer, investment recommendation, or solicitation to deal in any investments or funds and does not constitute investment research, investment recommendation or investment advice in any jurisdiction. Any research or analysis used to derive, or in relation to, the above information has been procured by us for our own use, without taking into account the investment objectives, financial situation or particular needs of any specific investor, and may have been acted on for own purpose. No warranty is given as to the accuracy, adequacy or completeness of the information contained in this communication and no liability for errors or omissions in such information. Readers must make assessments to the relevance, accuracy and adequacies of the information contained in this communication and make independent investigations, as they may consider necessary or appropriate for the purpose of such assessments. Any opinion or estimate contained in this communication, are made on a general basis. No information contained herein constitutes investment, tax, legal or any other advice, or an invitation to apply for securities in any jurisdiction where such an offer or invitation is unlawful, or in which the person making such an offer is not qualified to do so.
Issued in the United Kingdom (UK) by Aberdeen Asset Managers Limited, registered in Scotland (SC108419) at 10 Queen's Terrace, Aberdeen, AB10 1XL, and Standard Life Investments Limited registered in Scotland (SC123321) at 1 George Street, Edinburgh EH2 2LL. Both companies are authorised and regulated in the UK by the Financial Conduct Authority.